Bugatti La Voiture Noire: High-Class, High-Performance

Bugatti set off an avalanche of buzz when it revealed its La Voiture Noire at the 2019 Geneva Motor Show. Not long after, news outlets reported that the Noire had been purchased by an unnamed buyer for the highest new-car price ever — $18.7 million. So far, the identity of the buyer remains a mystery. We think that's only fitting, as this rare souper-coupe has more in common with the Batmobile than luxury legends like the Rolls-Royce Phantom or the Bugatti Veyron Super Sport.
Legendary Performance
For most, the La Voitire Noire exists in the same fantasy realm as the Batmobile, leagues beyond the sleek coupes raced (and often destroyed) by James Bond and Ethan Hunt. Check out the engine specs that can rocket its carbon-fiber chassis from 0 to 60 in 2.4 seconds:
Engine — 8L quad-turbo16-cylinder engine
Horsepower — upwards of 1,500 hp in each wheel
Torque — 1,180 pound-feet
Acceleration — 0 to 62 mph in 2.4 seconds
Bugatti La Voiture Noire Exterior
La Noire's signature design details over-the-top style and recalls the iconic Bugatti Type 57 SC Atlantic. You'll see its Bugatti pedigree reflected in attention-grabbing exterior features:
Exposed backbone
Unique front fascia
Rear fascia featuring six exhaust pipes
Insect-like light pattern
Custom headlight design
Single-piece body handcrafted from carbon fiber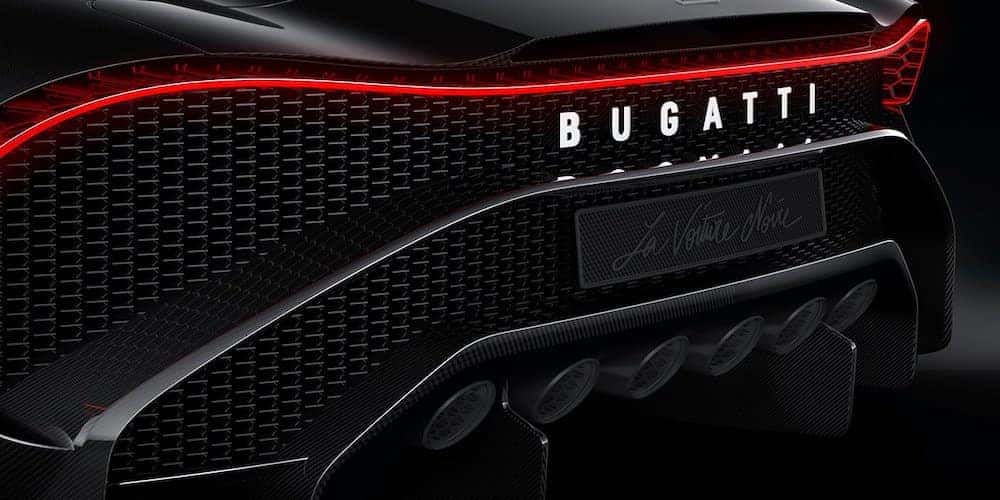 Introducing the 2020 Bugatti Chiron Noire
Interest in the Bugatti La Voiture Noire was so intense following the concept reveal in early 2019 that Bugatti decided to make 20 "budget" Noire versions. Based on the Bugatti Chiron model, they're priced at $3.3 million each. That's about ⅙ the original Bugatti La Voiture Noire price. The new edition is available in Élégance or Sportive trims, and should arrive by mid 2020.
Discover New and Used Bugatti Vehicles at Bugatti Broward
The Bugatti La Voiture Noire may be unavailable to the Weston public, but we promise you won't be disappointed by other models bearing the Bugatti logo in the brand's incredible lineup. If you're in Southwest Ranches or Fort Lauderdale, stop by our showroom in Davie. We're happy to answer any questions you may have about financing your pick from our full pre-owned vehicle inventory. Contact us if you're ready to test drive your next new or used luxury car today!