Even a supercar like a Bugatti Veyron, Chiron, or Divo needs routine oil changes to run at peak performance. However, an oil change for a Bugatti supercar isn't quite the same as an oil change for a mainstream model. The service itself is equally necessary, but the process is much more complex. The service team at Bugatti Broward near Weston is here to shed some light on how a Bugatti oil change works, why it matters, and what it can cost.
How is a Bugatti Oil Change Performed?
Bugatti oil changes are much more complicated than your average oil change because parts of the car need to be removed to reach the drain plugs and refill the oil to the correct level. The Bugatti Veyron, for example, is equipped with a dry-sump oiling system and 16 drain plugs. These plugs can only be accessed after removing certain components of the underbody.
To refill the motor oil, the vehicle's grille needs to be removed, along with the fender liners, rear deck, and rear brakes. Such an involved process often takes serveral hours, which is why a Bugatti oil change should only be done by professionals.
How Often is a Bugatti Oil Change Needed?
For regular passenger cars, an oil change is recommended every 5,000 to 7,500 miles, which equates to about twice a year. Generally, a Bugatti oil change is suggested once a year. Bugatti drivers don't typically put the mileage on their vehicle like it's a daily driver, but it's important to keep fresh oil in the engine regardless. Oil breaks down over time, even if the car isn't driven every day. Usually, all fluid checks and other routine maintenances are performed during a Bugatti oil change as well.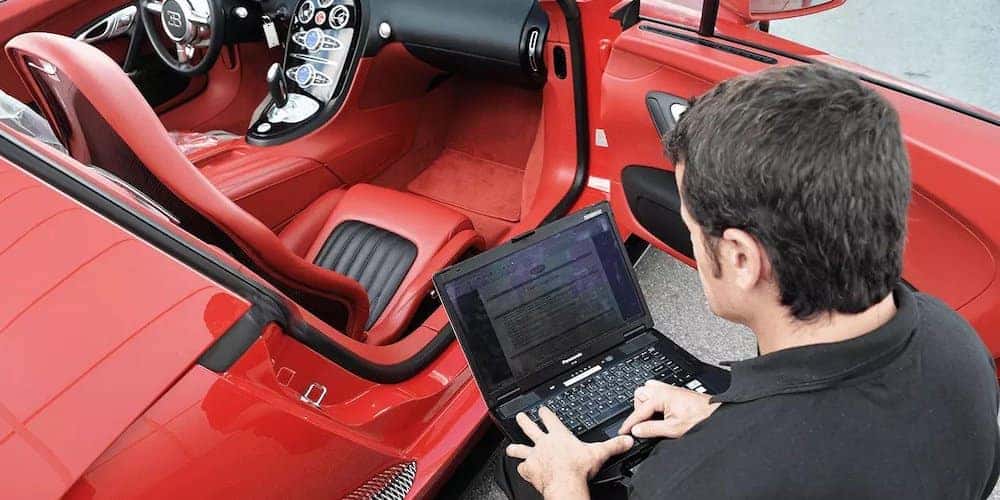 How Much is a Bugatti Oil Change?
Bugatti oil change costs usually range from $20,000 to $25,000. The exclusivity of a Bugatti, the labor involved, and the quality of the materials used, contribute to the price of an oil change. Of course, these figures can vary based on your model and other services you require during the visit. For a price quote on our oil change services, contact our service center directly and one of our representatives can assist.
Receive Expert Bugatti Service at Bugatti Broward
If your Bugatti is in need of an oil change, or you're shopping for OEM Bugatti parts, Bugatti Broward is your dependable source in the Southwest Ranches and Fort Lauderdale areas. Schedule a service visit online or pay us a visit in Davie today!